About knee and lower back pain
One of the causes of knee and lower back pain is
"decrease of cartilage."
* Illustration
As we age, the cartilage that serves as a cushion in the joints decreases, causing pain.
"Chondroitin" plays an important role in
the decreasing cartilage.
Knee pain

One of the causes is the
decrease of cartilage that serves as a cushion the joints

Lower back pain

One of the causes is the decrease of intervertebral discs that serve as a cushion in the lumbar spine
Chondroitin* is a component of cartilage and intervertebral discs.
"Chondroitin ZS Tablets" is a drug effective against knee and lower back pain.
It is the only OTC drug that contains
1,560 mg (daily dose) of chondroitin.*
* Chondroitin sulfate ester sodium
What is chondroitin?
1. Found throughout the body

Chondroitin is a substance that is found not only in cartilage, but also
throughout the body, including in the cornea of the eye, ear (inner ear), intervertebral discs, skin, and connective tissue that connects the cells.

2. Decreases with age

As we age, the ability of our bodies to produce chondroitin declines, and it decreases within our bodies.

3. High water retention capability

Chondroitin is virtually tasteless and odorless, with extremely high water retention capability. Because chondroitin sulfate is negatively charged, the molecules repel each other and create space. Water enters this space, and moisture is retained.

4. Also found in food

Foods rich in chondroitin are shark-fin, soft-shelled turtle, eel, sea bream and tuna eye balls, and poultry skin. It is also used in health foods and supplements as mucopolysaccharide protein complexes and shark cartilage extracts.

5. Widely used as a raw material for drugs

It is widely used as chondroitin sulfate ester sodium as a raw material for drugs in oral medications, health drink, and eye drops.
About Chondroitin ZS Tablets

Do not keep your worries to yourself.
First, consult a "pharmacy or drugstore."
Select the product
suitable for you in
consultation with a
pharmacy or
drugstore.


Chondroitin ZS Tablets Class 3 Drug
〇The only OTC drug containing 1,560 mg of chondroitin sulfate ester sodium. (Daily dose)
〇Drugs are approved in terms of quality, efficacy, and safety in accordance with laws and regulations.
[Indications] Joint pain, lower back pain, frozen shoulder, etc.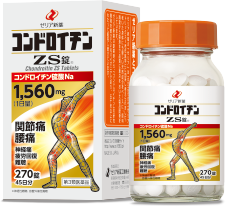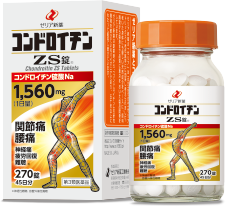 ZERIA Pharmaceutical "Chondroitin" Series

The degree and progression of pain varies from person to person; consequently, the selection, consumption, and duration of medication will also vary. To quickly alleviate symptoms, it is recommended that you go to a store and consult a pharmacist or registered distributor prior to purchase.